Hot temperatures can take a toll on your RV, inside and out. In this article I would like to offer 10 hot weather RV preventive maintenance checks to help make sure you and your RV are ready to deal with the summer heat. Let's start outside the RV.
Outside the RV:
It doesn't matter if it's a motorized RV or a truck towing a trailer, the vehicle needs to be ready for the heat. Hot summer temperatures affect the vehicle's tires, cooling system and the transmission. If the vehicle isn't prepared for hot temperatures there is a possibility you won't reach your camping destination.
1) Checking Fluid Levels
For starters it's a good idea to check all the fluid levels in the vehicle and make sure all service intervals are followed. This includes generators too. Engine oil lubricates moving parts and helps components run cooler. When the temperature increases, the engine, transmission and axles are subjected to more heat than normal. Used oil and transmission fluid loses its lubricating qualities and the ability to help keep moving parts cool. Replacing fluids and filters can help prevent heat related problems with your vehicles drive-line components.
2) RV & Tow Vehicle Tires
Tires are directly affected by hot temperatures, especially underinflated tires. An underinflated tire creates a tremendous amount of heat and when you factor in hot summer temperatures the results can be disastrous. Inflate the tire pressure based on the load, and if a tire is overloaded try to redistribute some weight to correct the problem. Always check and adjust tire pressure when the tires are cold, and/or before traveling more than one mile.
3) Vehicle Cooling System
Hot temperatures affect a hot running engine. The vehicle's cooling system is designed to prevent the heat producing engine from overheating and quite possibly seizing up. If you don't maintain the vehicle's cooling system rust, scale and corrosion build-up in the radiator, water pump and engine coolant passages can result in an overheated engine. Flushing the cooling system and replacing antifreeze at scheduled intervals can save your engine.  Don't forget to inspect the radiator and heater hoses too. Soft and/or brittle hoses can indicate potential problems.
4) Vehicle & RV Batteries
When temperatures increase lead-acid battery life decreases. Heat is a battery's enemy. Hot temperatures contribute to battery corrosion, and to water evaporating from the electrolyte. Keep the battery connections clean and during hot weather or periods of high usage check the battery frequently. Checking the water levels and adding distilled water as required can save your engine starting battery and your deep-cycle RV batteries.
Caution: When working on batteries remove any jewelry, wear protective glasses and gloves, and avoid getting battery acid on your skin or clothing. If you are not comfortable working on or around batteries have the work done by a qualified repair facility.
Now that the vehicle is ready for the hot summer temperatures we can concentrate on staying cool when we arrive at our destination. Here are some more helpful hot weather camping tips.
Inside the RV:
6) Take Advantage of Shade
Strategically park your RV to take advantage of any shade that is available, especially on the side where the refrigerator vent is located. Don't be afraid to ask for a shady site when you check-in at the campground. This will not only help keep the RV cool, but your refrigerator and roof air conditioner will work more efficiently too.
7) Air Conditioner
You can improve your air conditioners efficiency by keeping the A/C filters clean. In most cases you can wash the filters in warm soapy water, rinse thoroughly and allow them to dry before reinstalling. Another option is to clean the filters using a small hand held vacuum cleaner. I recommend you keep a new set of filters on hand in the event the old ones have seen better days.
8) RV Awnings
Use your main patio awning and any window awnings to assist in keeping the RV cool. In addition to using the awnings use your window blinds, or day/night shades to help keep the sun out and the cooler air inside. Proper ventilation helps prevent excess heat in your RV too. You can install vent covers, like Maxx Air vent covers, over the roof vents to allow for ventilation and air circulation. They are inexpensive, easy to install and they let the fresh air in, even when it's raining.
9) RV Electrical Surge Protection
Campground voltage can fluctuate, especially during the hot summer months when all the campers are running their air conditioners. You should use a surge protector designed to protect your RV from improper wiring, and in the event that voltage drops below 105-volts or spikes above 130-volts.
10) Refrigerator Efficiency
RV refrigerators are affected by outside temperatures too. To help the refrigerator work more effectively in hot weather try parking the RV with the side the refrigerator is on in the shade. Leave room between the foods for air to circulate. Avoid leaving the refrigerator or freezer door open for extended periods of time and use an inexpensive battery operated refrigerator fan to help circulate air.
Well there you have it, 10 quick and easy steps you can take to help prepare your RV for hot summer camping trips inside and out.
Happy RV Learning
Mark J. Polk
http://rveducation101.com/
RV Education 101
Your One Stop Vetted RV Education Source
RV Online Video Training For ALL Computers and Devices:
RV Online Single Video Titles
Travel Trailer & 5th Wheel Trailer RV Orientation Video Training
Tow Your Travel Trailer Like a Pro Video Training
Tow Your 5th Wheel Like a Pro Complete Online Video Training
Motorhome RV Orientation Video Training
Drive Your Motorhome Like A Pro Complete Online Video Training
RV Essential Items Video Training
RV Care & Preventive Maintenance RV DIY® Online Video Training
Winterizing and Storing Your RV Video Training
RV Online Video Value Sets
Travel Trailer 5 Video Set Plus free RV Checklist ebook
5Th Wheel 5 Video Set plus free RV Checklist ebook
Motorhome 5 Video Set plus Free RV Checklist ebook
Travel Trailer 6 Video Set Plus free RV Checklist ebook
5Th Wheel 6 Video Set plus free RV Checklist ebook
RV 101 Motorhome Online 6 Video RV Orientation Training Bundle
RV 101® Travel Trailer Ultimate Video & E-book Bundle
RV 101® 5th Wheel Ultimate Video & E-book Bundle
RV 101® Motorhome Ultimate Video & E-book Bundle
RV Online E-Book Titles
An Introduction to RVs E-Book Training
Insider's Guide to Buying an RV
Owning & Operating an RV E-Book Training
The Original Checklists for RVers E-Book
RV Campground Basics E-Book Training
RV Safety Features, Tips & Tricks E-book Training
RV Care & Maintenance E-Book Training
Winterizing & Storing Your RV E-Book Training Course
RV Battery Care & Maintenance E-Book Training
Trailer Towing Basics E-Book Training
Official RV 101® Guide to RV Generators
Official RV 101® Guide to RV Water Systems
Official RV 101® Guide To RV Water Heater Use & Care
Official RV 101® Guide – Trailer Towing, Weights & Safe Towing Explained
Official RV 101® Guide to Understanding Trailer Sway
RV Online E-Book Value Sets
A Collection of RV Education 101 E-Books – 9 RV E-BOOK BUNDLE SET
Official RV 101® Guides for Travel Trailer Bundled Set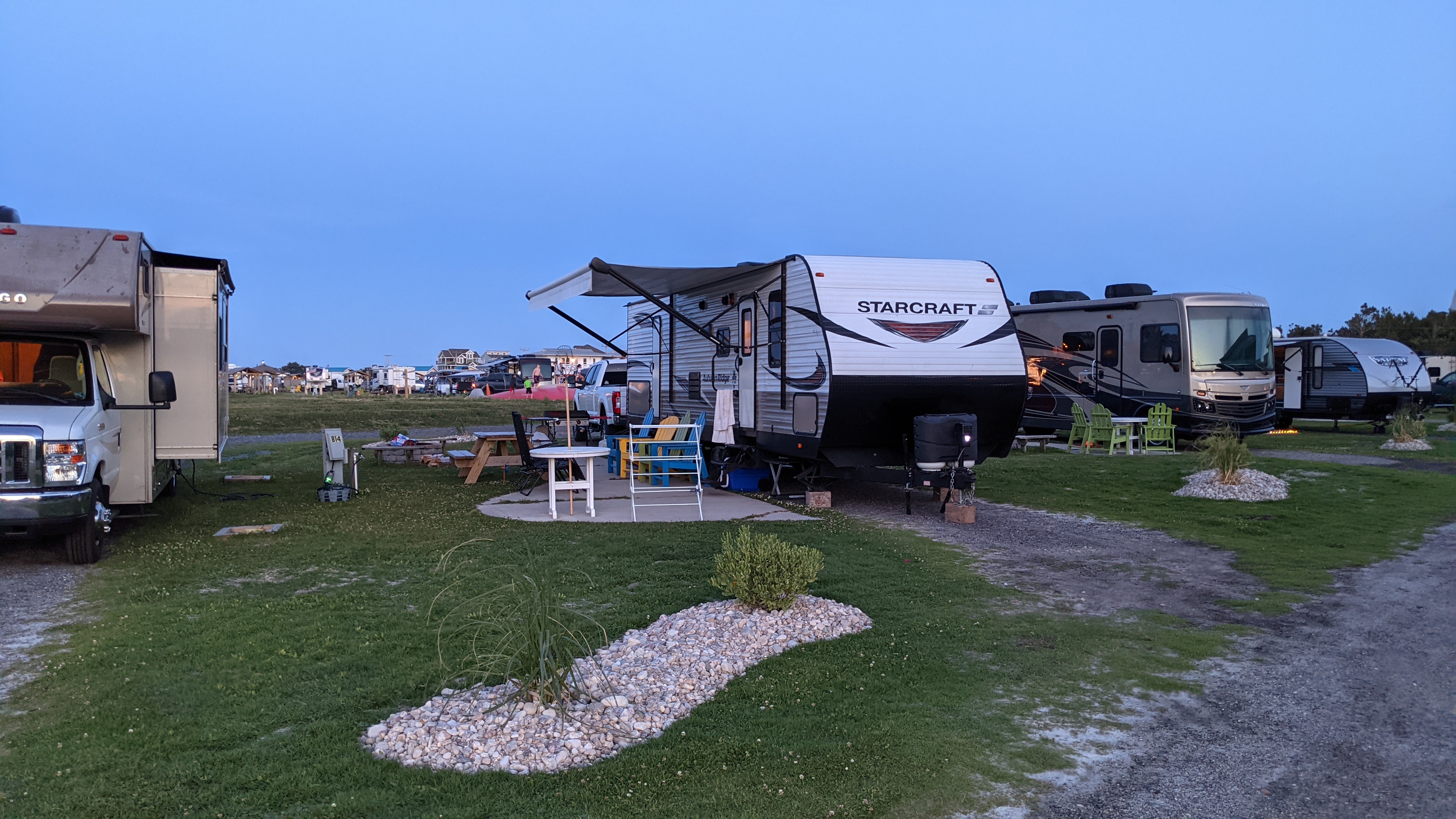 RV Education 101 is a leader in the industry when it comes to RV education. Our RV training is affordable and in-depth. You don't have to be concerned if the information you are getting is correct. Your instructor is RV expert Mark Polk, who is an active RVer, with 25 plus years as an RV educator in the RV industry! Watch the RV videos, follow our original RV checklists, and read all of the RV e-books.
Learning RVs the easy way. Reputable, easy to understand, thorough, self-paced & affordable. Lifetime access. RV orientation walk throughs on how to use and maintain a motorhome, travel trailer and 5th wheel with RV Education 101® downloadable segments.
You will master your travel trailer, 5th wheel or motorhome the easy way, and quickly be on your way to enjoying your RV experiences.
Not a subscription based course. We never inundate you with emails.
Founded in 1999 the leader in RV Education.
Our goal at RV Education 101 is simple, we want to be your one stop vetted RV education source. No matter what type RV you own, if you are renting an RV, or what RV topic you want to learn about, RV Education 101 has you covered.
It is important you are careful where you get your RV education from. The other day, an online towing course was brought to my attention so I took a closer look. The first thing I noticed in the advertisement is, the online towing course has vetted information. According to the Merriam-Webster dictionary vetted means: having been subjected to evaluation or appraisal: critically reviewed and evaluated for official approval or acceptance. This tells me when I view the videos all the information is accurate, quality, professional content the viewer can depend on.
I want to give you an example of vetting information. When I was in the military, stationed in the 82nd Airborne Division, myself and some other maintenance warrant officers were tasked with vetting a new automated maintenance program called Unit Level Logistics System or ULLS. For weeks we collectively scoured the entire program to ensure everything was correct and accurate, so it could be implemented throughout the division maintenance units. After the program was vetted, we spent several more weeks teaching the new maintenance system to unit motor pool personnel. That is how you vet information and content.
I watched the videos in the online towing course and afterwards the only question I had is who vetted the information. I can tell when an individual is not well-versed about the topic they are teaching. They tend to gloss over the material, leaving much of the important technical information out of the conversation. It is usually because they do not know or understand the technical or mechanical content involved in the topic they are attempting to teach. The instruction is vague and they leave the most important information out of the instruction. People who view these towing videos will learn some very basic information, but they will not learn everything they need to know to safely and properly tow a 2, 4,or 6 ton trailer down the highway.
I have been used as an expert witness in several cases involving trailer towing incidents. I do not advertise this service, but if I review a case and see there is gross negligence on the part of somebody, I provide my assistance. In some of these cases people died as a result of misinformation or lack of proper equipment while towing a trailer. I take this training very seriously.
Our RV Online Training courses are vetted by me. My military training, years of training and working in the RV industry, and over 25 years of hands on RV experience provides our students with accurate, quality, professional content they can depend on. If there is an RV topic you want to learn more about, I encourage you to visit RV Online Training and review the selection of video and e-book training courses we offer. We offer complete and comprehensive RV online training, and it's affordable for everybody.